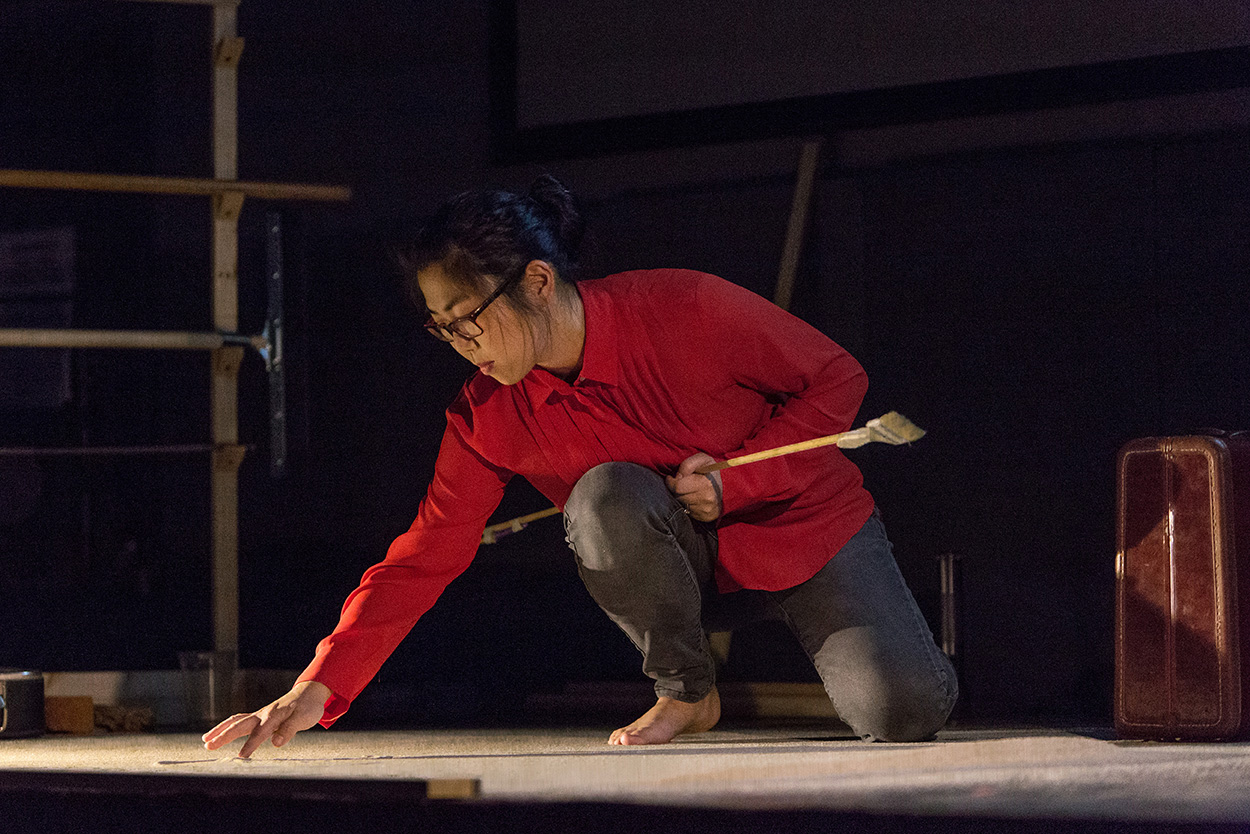 Bend (part of the ephemera trilogy)
Columbia, South Carolina 2014
Created and performed by Kimi Maeda
With music by Bill Carson and Kishi Bashi
Have you seen the movie about my dad called Bend? My dad hasn't either, but he's pretty sure it's playing next Thursday. He doesn't know where, just like he doesn't know where he is right now. Is it a hospital? All he knows is it isn't home.
Kimi Maeda's solo performance, Bend, tells the true story of two men interned in a Japanese American internment camp during World War II: Maeda's father, an Asian Art historian who suffered from dementia at the end of his life, and the subject of his research, Isamu Noguchi, a half-Japanese-half-American sculptor. Weaving together live feed projections of sand drawings with archival footage from the 1940s, Maeda's performance poses important questions about how the Japanese American internment camps will be remembered.
Support for Bend was made possible by the Tapp's Arts Center, the Jim Henson Foundation, the South Carolina Arts Commission, the National Endowment for the Arts, the John and Susan Bennett Memorial Arts Fund of the Coastal Community Foundation of SC, Alternate ROOTS, the New England Japanese American Citizens League, the Arkansas Archaeological Survey, the Arkansas Arts Council, the Arkansas Humanities Council, the World War II Japanese American Internment Camp Museum, the Nathan Cummings Foundation, the Ford Foundation, the Andrew W. Mellon Foundation, the Kresge Foundation, and the Kō Festival of Performance.
November 15, 16, 2014: Tapps Arts Center (Columbia, South Carolina)
March 16, 2015: International Sonoran Desert Alliance (Ajo, Arizona)
May 15, 2015: The Carrack Modern Art (Durham, North Carolina)
May 16, 2015: a/perture cinema (Winston Salem, North Carolina)
April 28, 2015: Brandeis University (Waltham, Massachusetts)
August 7, 2015: ROOTS Week (Arden, North Carolina)
August 23, 2015: Mechanical Eye Microcinema, BeBe Theatre (Asheville, North Carolina)
August 25, 2015: Maiden Alley Cinema (Paducah, Kentucky)
August 27, 2015: Ron Robinson Theatre (Little Rock, Arkansas)
August 28, 2015: McGehee High School (McGehee, Arkansas)
September 16, 18, and 19, 2015: Puppets in the Green Mountains Festival, Sandglass Theatre (Putney, Vermont)
November 13, 2015: Cucalorus Film Festival, City Stage Theatre (Wilmington, North Carolina)
February 16, 2016: University of Rochester, Sage Art Center (Rochester, New York), 2:00
February 19, 2016: University of Massachusetts Boston, Snowden Auditorium (Boston, Massachusetts), 3:00
February 21, 2016: Tufts University, Balch Arena Theater (Medford, Massachusetts), 1:00
February 22, 2016: Marlboro College, Whittemore Theater (Marlboro, Vermont), 7:30
February 23, 2016: Williams College, Directing Studio, '62 Center for Theatre and Dance (Williamstown, Massachusetts), 7:00
February 24, 2016: Dartmouth College, Black Family Visual Arts Center, Loew Auditorium (Hanover, New Hampshire), 4:00
February 25, 2016: Massachusetts Institute of Technology, Tang Center, 2 Amherst Street, Room E51-095 (Cambridge, Massachusetts), 7:00
February 26, 27, 2016: Puppet Showplace Theater (Brookline, Massachusetts), performances at 8:00, Japanese American Citizens League reception on Saturday, February 27 after the performance (http://www.puppetshowplace.org/bend)
April 22 - May 7, 2016: Trustus Theatre (Columbia, South Carolina)
May 20, 21, 2016: Voicebox, Catapult (New Orleans, Louisiana), 8:30, tickets
May 22, 2016: Alabama Contemporary Art Center (Mobile, Alabama), 5:00
September 9, 2016: Puppet Homecoming 2016 (Kerhonkson, New York)
February 19, 2017: The Noguchi Museum (Long Island City, New York), 3:00
February 21 - March 12, 2017: Flint and Tinder Series (The Tank) at The Paradise Factory, 64 East 4th St b/t Bowery & 2nd Ave (New York, NY), tickets
May 6+7, 2017: Theatre at Raritan Valley Community College (Branchburg, New Jersey)
October 8, 2017: University of Shimane, 2:00 (Hamada, Japan)
October 25, 2017: I-House (Tokyo, Japan), 7:00
October 27, 2017: Waseda University (Tokyo, Japan), 4:30
November 2, 2017: Kobe City University (Kobe, Japan)
November 18, 2017: University of Shimane, 3:00 (Hamada, Japan)
February 28, 2018: Earlham College (Richmond, Indiana)